A chatty pet parrot is recovering from his brush with death after ending up in the lions enclosure at Longleat Safari Park near Warminster.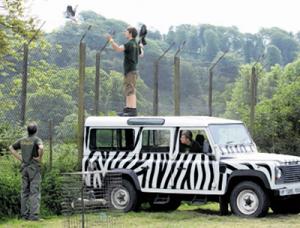 Lalji, a nine-year-old African grey parrot, was reunited with his distraught owner Pie Chambers, after escaping from a cage in the garden of her home in Corsley.
After three days on the run, Lalji, who knows more than 500 words and phrases, found himself four miles from home, in an enclosure with Longleat's pride of lions, sparking a rescue mission by keepers.
Ms Chambers, 66, who has had Lalji since he was a nine-week-old chick, said he didn't utter a word for four days after his ordeal.
"He obviously had a traumatic experience because he didn't speak when he came back," she said. "The first word he said following all this was 'love you'. I felt very weepy afterwards.
"He's a great chum and I was bereft without him."
Lalji – whose name has Hindi origins with Lal meaning red, referring to his red tail, and ji being an informal greeting – escaped from his cage on May 23.
He was spotted by Longleat keepers on May 26 perching on a fence watching the safari park's seven lionesses.
Resident parrot expert, Jon Ovens, from Longleat's Animal Adventure was called in to help, but attempts to woo Lalji down using a resident female parrot failed and a large net had to be used to capture him.
Ms Chambers added: "It was a nice day, so he had been in a cage in the garden. I looked over to him and all of a sudden the cage was empty – I noticed afterwards it had a faulty door.
"I was actually on my way to the wildlife park to look for him on Wednesday morning when I got a call from them to say he was in with the lions.
"It was very scary – he could have become their lunch at any moment."
Ms Chambers runs trips to India focusing on arts and crafts and moved to Corsley from India in 2008, after spending nine years there.