Ingredients
1/4 of a small wholemeal tortilla wrap
1 cherry tomatoe
one slice of red pepper
1 teaspoon of corn (fresh or frozen)
parsley or coriander to taste
a tiny pinch of dry paptrika or caynne pepper
a drop of olive oil
Preparation
Prepare the pepper and the tomatoe by chopping them into small pieces. Chop the herbs. Drop a tiny bit of oil on a frying pan, put the tomatoes, peppers, corn and herbs on the pan, put the spices on top and fry on a medium heat for about a minute.
Then put the mix on the tortilla and wrap up tightly. To wrap up tightly put the veggie mix closer to one edge of the wrap, fold the sides in and then start wrapping from the end with the filling.
If your parrot likes unflavoured yogurt you can drop a bit of that on the veggie mix before wrapping up.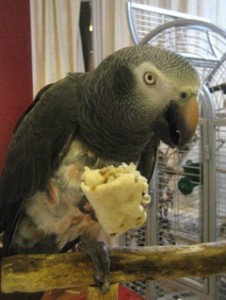 Courtesy of Irina from Parrot Comforts